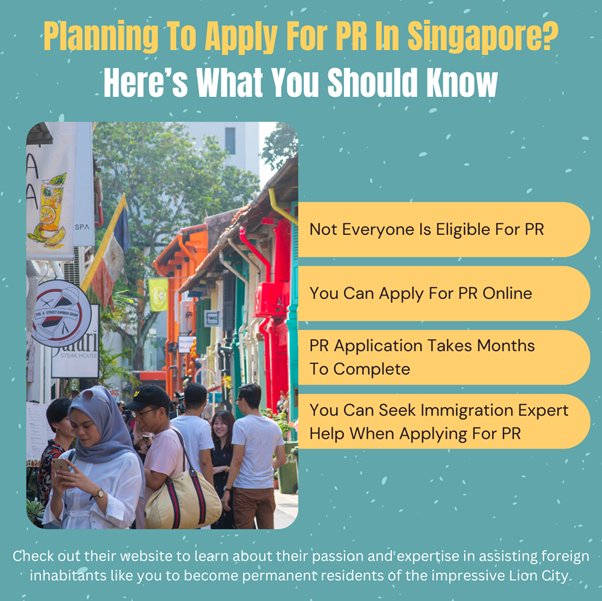 More and more foreign residents have been applying to become PRs of Singapore. The city-state has become their home after working, studying, or living in its innovative yet nature-embracing and culturally-diverse communities for many years. If you plan to apply for PR in Singapore, you should keep a few things in mind to ensure your appeal's success.
Obtaining a permanent resident or PR status will allow you to reside in Lion City permanently. It will also open numerous doors for you to let you achieve educational and professional success. When you apply for PR in Singapore, you will also gain access to cheaper housing and become qualified to obtain a Central Provident Fund Plan or the country's social security savings scheme.
Becoming a permanent resident gives foreign residents like you numerous perks that can improve their experience living in the city-state. But before submitting your Singapore PR requirements, here are four things you should know about the programme:
1. Not Everyone Is Eligible For PR
Unfortunately, not everyone can apply for PR in Singapore. If you are a spouse, child, or aged parent of a Lion City resident or PR, you can request to become a permanent resident. Students, foreign investors, and employment or S pass holders can also obtain permanent residency. Otherwise, they can only be in the country as visitors.
2. You Can Apply For PR Online
Like many government services, PR applications are now online. Before presenting your application to the authorities, you can also check the Singapore permanent resident eligibility and requirements.
3. PR Application Takes Months To Complete
You may apply for PR in Singapore through an online platform, but processing your request can take up to six months. If you fail to provide the correct information or requirements, your petition may get delayed—or worse, rejected.
4. You Can Seek Immigration Expert Help When Applying For PR
Applying for permanent residency and understanding the PR requirements can be confusing and overwhelming. Fortunately, you can work with a trusted immigration expert who can give you advice when submitting your request to become a PR. They can also guide you through the process according to the Immigration & Checkpoints Authority or ICA guidelines and list a few things to consider before applying for PR.
Are you planning to apply for PR in Singapore? Let Singapore Immigration Partners help you! Check out their website to learn about their passion and expertise in assisting foreign inhabitants like you to become permanent residents of the impressive Lion City.