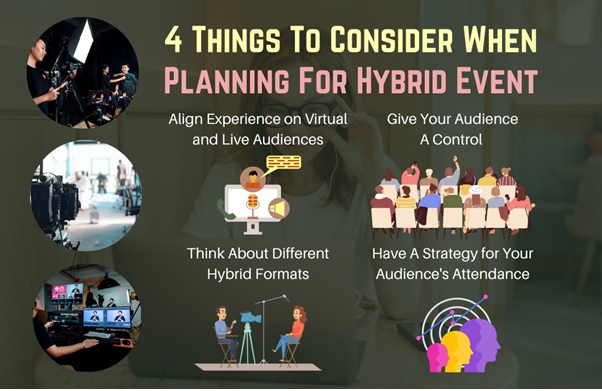 With almost every video production in Singapore focusing on providing quality online video content, hybrid events are becoming a solution to accommodate both face-to-face contact and remote attendance. Nevertheless, it entails challenges and obstacles that event organisers and companies must surpass to succeed. It comes with complexity, which makes the workload more demanding and time-consuming.
Keeping two audiences interested and engaged requires a lot of effort and is not a simple feat you can pull off. In most cases, these events can lead to massive failure without expert planning. Designing a successful hybrid event in Singapore requires some number of considerations. Without further ado, here are some tips you can do to plan for your next hybrid event:
Align Experience on Virtual and Live Audiences
Perhaps among the biggest challenges of planning and hosting virtual events is tailoring and aligning experiences for your attendees. However, the challenge becomes doubled when you want to replicate the virtual and in-person experience for two different audiences. Planning for a hybrid is more than hiring the best videographer in Singapore or finding the best crew for the event. You want your agenda to consider both audiences to tailor a different experience for each.
Give Your Audience A Control
Another not-so-secret component to consider for a successful hybrid program is to give attendees the control to choose their experience. Give them an option on how they want to attend the event and the sessions they want to participate in. You might also consider what content they want to consume and give choices on how they want to interact and engage throughout the event, whether it's a breakout room or discussion forums.
Think of Different Hybrid Formats
If you are hosting a hybrid event in Singapore, you can set it up with myriads of available formats. For example, you can consider setting up a number of local hybrid hub locations for the audience or have a total virtual event, but your speakers are on-site. Different formats let you craft a more practical and convenient approach to make it easier for the audience to attend.
Have A Strategy for Your Audiences' Attendance
There are several variables present when hosting a hybrid program. The importance of attendance is something you should value when planning. It must include preparation for forecast, planning for invitations and marketing the event. Once you have made any preparation for your audience, you can proceed with planning for venues and virtual platforms.
Are you looking for video production or corporate photo shoot services? Visit Vivid Snaps Video Production for more info.